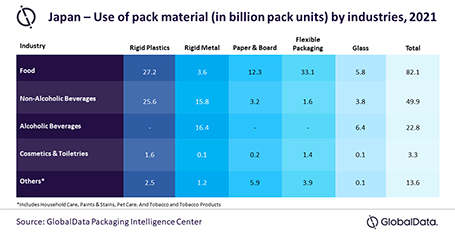 Rigid plastics to drive Japan packaging market according GlobalData
publié le jeudi 08 septembre 2022
Abonnez-vous à la revue pour lire la suite de l'article
s'abonner
The Japanese packaging market is set to grow at a compound annual growth rate (CAGR) of 1.5% from 171.7 billion units in 2021 to 185.1 billion units in 2026. Rigid plastics, which accounted for the maximum share of 33.1% in 2021, will continue to dominate through the forecast period, according to GlobalData. Its latest report* reveals that flexible packaging and rigid metal accounted for shares of 23.3% and 21.5%, respectively, in 2021.
"Apart from its easy and convenient storage, low cost and light weight features contribute to rigid plastics' significant usage in packaging. Concurrently, rigid metal is anticipated to record the fastest CAGR of 2.6% during 2021-26. Increasing awareness regarding plastic waste and its harmful effects on the environment is likely to increase the use of rigid metal during the forecast period," comments Srimoyee Nath, Consumer Analyst at GlobalData.
According to the report, the food industry in Japan is the primary user of packaging materials accounting for a 47.8% share in 2021. Within the food industry, flexible packaging was the most widely used pack material, followed by rigid plastics.
Nath explains: "The demand for flexible packaging in food products is mostly attributed to its high consumption in bakery & cereals, dried food, and savory snacks, wherein consumers tend to look for products that offer convenience features such as zip locks, resealable closures, and light weight. The non-alcoholic beverages industry was the second-largest user of packaging materials in the country."
"Japan Packaging Market Size, Analysing Key Pack Material (Pack Type, Closure Material and Type, Primary Outer Material and Type), Innovations and Forecast, 2021-2026."
All rights reserved except agreement written by Emballage Digest or mention of the magazine