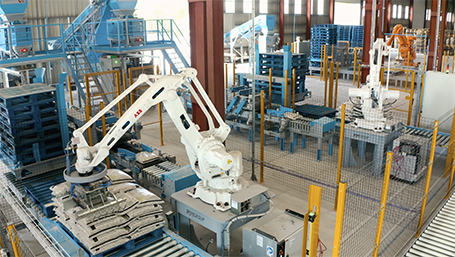 RMGroup's integrated bag filling and palletising system for Long Rake Spar
publié le vendredi 17 juin 2022
Abonnez-vous à la revue pour lire la suite de l'article
s'abonner
Leading process and packaging specialist, RMGroup, has recently installed a fully integrated bag filling and palletising system for specialist decorative aggregates supplier, Long Rake Spar. The solution, which is capable of producing up to 40 bags a minute and over 2200 pallets of bagged aggregate a week, further endorses RMGroup's position as a leading single source supplier, delivering robust and affordable systems to meet sizeable production demands.
With a policy of holding high volumes of stock to enable Long Rake Spar to react quickly and dynamically to demand for products, the ability to be fully in control of their supply chain is a fundamental part of the company's long-term strategy. The addition of a new site at Garston Docks in Liverpool, has further increased their production capabilities by 60,000 tonnes, assisted by the installation of the new state-of-the-art bagging facilities by RMGroup.
To meet the required throughput of aggregates, the automated bag filling and palletising system for bagging up to 25kg bags, consists of twin bulk hoppers and in-feed conveyors, two doser weighing systems and vertical form fill and seal (VFFS) bag filling systems with operator platforms. The filled bags are positioned onto pallets by two ABB IRB 460 palletising systems with gripper heads and safety systems. Palletised loads are conveyed to the end of the line and wrapped by a Lachenmeier Powerflex T1 stretch hooder.
"We've used RMGroup on numerous projects in the past and have an excellent working relationship with them," said Kenny Dean, Long Rake Spar's procurement and logistics director. "The main business challenge we have when choosing a supplier is suitability, reliability, after sales back up for maintenance and of course price – RMGroup fully match our criteria in all aspects. The new bagging plant fully meets our expectations, the installation of which was highly professional throughout."
All rights reserved except agreement written by Emballage Digest or mention of the magazine