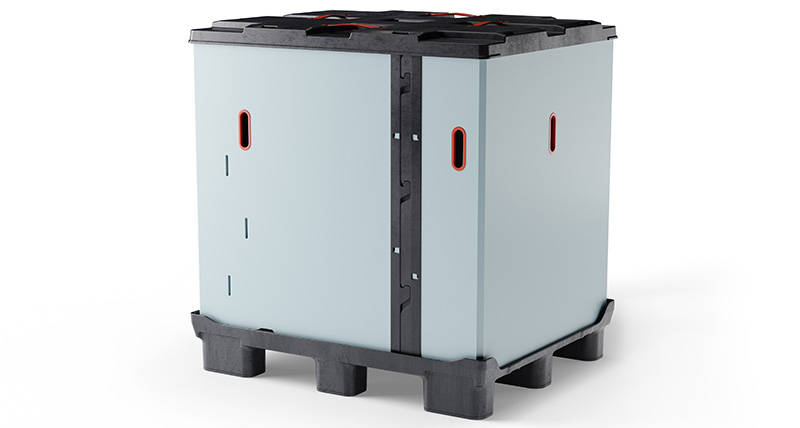 Sabic and Cabka collaborate to create next generation transport packaging solution
publié le vendredi 13 janvier 2023
Sabic and Cabka have collaborated to launch the CabCube 4840 – the next generation in foldable large containers. Cabka were aware that Sabic is a PP compound market leader and a pioneer in offering sustainable, circular solutions from their TruCircle™ portfolio.
Cabka approached Sabic, looking for a 100% recyclable lightweight polymer material solution to produce their CabCube 4840. Within less than six months, an extremely rapid timeframe for such an initiative, the two companies had collaborated to develop several high-performance PP compounds. These compound-solutions provide excellent processability, high compression strength, high impact, and weight reduction. Some of these compounds are unique grades in Sabic's foam and lightweight portfolio as they are flame-retardant, halogen-free and UL94-V0 certified.
"Sabic offers more than 20 innovative foam and lightweight solutions enabling customers and partners across the entire value chain to overcome the challenges they face to meet consumer demand for smarter, more sustainable solutions. We are delighted to have been able to provide a lightweight solution for Cabka with superior material properties, enabling them to produce a cost-efficient, sustainable, and smart alternative to traditional metal/wooden cages for the transport of goods," said Abdullah Al-Otaibi, ETP & Market Solution General Manager at Sabic.
Sabic and Cabka are also working together on polyolefin compound solutions containing mechanically recycled content. The Sabic Trucircle portfolio of circular solutions and services can, in this respect, provide Cabka and their customers with new options to address their sustainability goals. In addition, the two companies aim to join forces to improve Sabic's logistical/ packaging systems – replacing 'one way' wooden pallets and cardboard octabins with lightweight, returnable plastic alternatives, starting at the Sabic compounding asset in Genk, Belgium.
"Cabka has various CabCube designs, sizes and specifications, and their usage creates significant efficiencies in the supply chain for our customers," explains Jean-Marc van Maren, Chief Product Officer at Cabka. With the support of Sabic, we have made these sustainable load carriers more reliable and safer than existing solutions on the market."