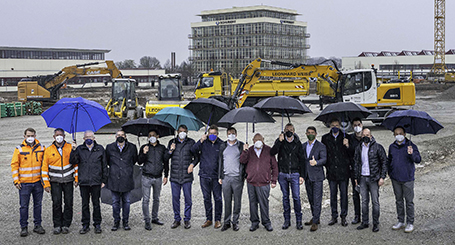 Schubert inaugurates its new building project in Crailsheim
publié le vendredi 22 avril 2022
Packaging machine manufacturer Schubert's is building a new final assembly hall with an office wing with a total area of over 12,000 square metres at a cost of 38 million euros and to be completed by June 2023 in Crailsheim.
Construction work is now beginning on the largest investment in the company's history. "The expansion will open up space for 300 employees," says Peter Schubert, Managing Partner at the company.
For the construction to be planned at all, the L2218 road between Crailsheim and Dinkelsbühl first had to be relocated in 2019. "Due to increased demand for our top-loading (TLM) packaging machines and our company's growth, we had to consider back then how to expand our assembly areas," recalls Ralf Schubert. The idea of relocating the road near the Schubert site to create a new building area convinced the city of Crailsheim as well as the Stuttgart Regional Council.
Sustainability also played a major role in planning the new building. "We want to produce and manufacture in an entirely CO2-neutral way by the end of 2023, so the building will be equipped with a sustainable energy concept," explains Ralf Schubert. After the geothermal energy already installed on the company premises was no longer approved at the site due to new regulations, the packaging machine manufacturer decided to use ice storage technology for heating and cooling. A photovoltaic system with an output of roughly 400 kWp (kilowatts-peak) will also be installed on the roof of the new building. "The objective is for the new hall to be operated in a climate-neutral manner," he concludes.
All rights reserved except agreement written by Emballage Digest or mention of the magazine