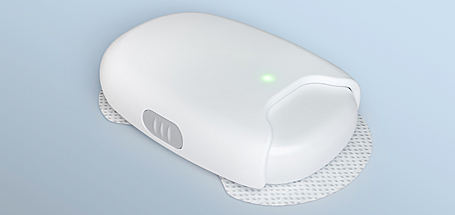 Stevanato and Bexson collaborate to develop a customized wearable ketamine delivery device
publié le mardi 22 septembre 2020
Italy-based Stevanato Group, a leading producer of glass primary packaging and provider of integrated capabilities for drug delivery systems, and Bexson Biomedical, Inc., a research stage company developing a subcutaneous ketamine treatment platform for pain management and mental health disorders, announced today that they have signed an agreement.
The collaboration will focus on developing a customized version of the SG EZ-be Pod®, a wearable drug delivery device, for Bexson's proprietary ketamine formulation, BB106. The two companies will work closely together to produce a small, wearable, and programmable device, leveraging Stevanato Group's broad experience in contract manufacturing and medical device innovation. This technology will pair with Bexson's ketamine therapy to provide patients with best-in-class non-opioid treatment for chronic and acute pain types.
Stevanato Group's device is designed to enable dynamic and convenient subcutaneous delivery for patients, compared to current ketamine infusions that have a high procedural burden and high cost. Ketamine, which blocks a receptor that is fundamental in pain signaling, is already being used by doctors through in-office infusions. Healthcare providers are limited in their ability to send patients home with ketamine, which is where most patients develop opioid dependence. Bexson's proprietary formulation, BB106, will allow for steady-state plasma levels, which are currently only achieved by intravenous delivery in the clinic or hospital.
"In the midst of a pandemic health crisis and evidence of increasing opioid addiction and overdoses, there has never been a greater need for effective non-opioid pain management. Stevanato Group has the ideal technology to deliver Bexson's BB106 subcutaneous ketamine formulation," said Gregg Peterson, Bexson's Co-Founder and CEO. "And beyond pain management, this partnership will create a true ketamine delivery platform that can be leveraged for a large number of future indications."
All rights reserved except agreement written by Emballage Digest or mention of the magazine