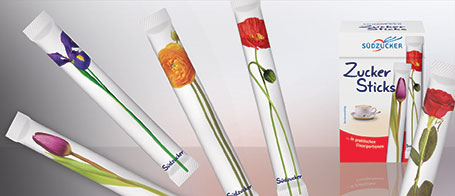 Südzucker switches its sugar stick packaging material to barrier paper
publié le mardi 13 avril 2021
Within the framework of an extensive sustainability project, Südzucker is changing all of its packaging to 100% recyclable solutions over the coming years. As part of this, the company has changed the packaging material of its sugar sticks to Koehler NexPlus® Seal paper.
This paper is characterized by its barrier coating with various capabilities. In particular, these include barriers for aroma, grease, oil, water vapor, or gases, which combine with the paper's inherent capabilities, such as high strength properties and a natural feel, to create a strong overall concept. The paper really delivers in terms of the primary purposes of packaging: to protect the contents and their surroundings as well as provide excellent processing properties.
Südzucker carried out a range of stress tests on samples of Koehler NexPlus® in order to verify the general product claims. These were followed by qualification tests on the existing packaging lines. "One of our requirements was for the new paper to be used on our existing packaging machines, with the same processing time and efficiency. With Koehler NexPlus® Seal 45 gsm, we've found the optimal solution," continues Tillmann Dörr, Food Technology Manager in the Research, Development, and Service division at Südzucker.
An analysis of the life cycle of Koehler's flexible packaging paper shows a significant reduction of CO2 compared to conventional PE-coated paper and even plastic duplex products. Another advantage of using Koehler NexPlus® for Südzucker's sugar sticks is that the material has a lower grammage than the company's previous solution. As a result, Südzucker is fulfilling its commitment to sustainability in two ways: not only by using sustainable packaging products, but also by using fewer resources in the process. The new sugar sticks have been in stores across Germany since late February 2021.
All rights reserved except agreement written by Emballage Digest or mention of the magazine