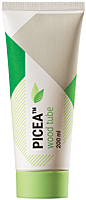 SWITZERLAND: Wooden cosmetic tube
publié le mercredi 30 septembre 2020
In its EcoDesign range, Neopac is launching the Picea™ tube made from spruce, a sustainable packaging, which will enhance natural cosmetic and dental products.
The tube, made from a mixture of spruce waste and a plastic matrix made from sugar-based raw materials, contains more than 95% of materials from renewable resources.
The spruce wood comes from certified European forests and the wood fibers from sawdust from German joinery. The tube offers the same qualities in terms of barrier properties, decoration, food quality and recyclability as a traditional PE tube, but is distinguished by its 40% lower carbon footprint. Consumers will be able to feel the difference: the fine sawdust makes the surface of the tube slightly rough. In addition, the tube has received Ecocert and Cosmos certifications as well as the European mention "Food Grade" which confirms its food quality.
Part of 648 issue – May 20. All rights reserved except agreement written by Emballage Digest or mention of the magazine