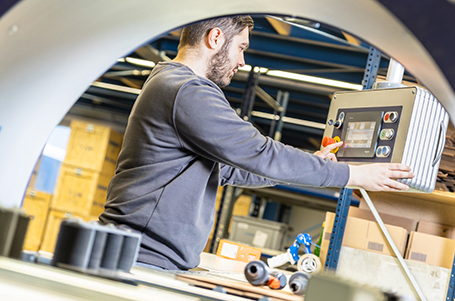 technotrans presents innovative thermal management solutions for the plastics industry
publié le mardi 13 septembre 2022
Abonnez-vous à la revue pour lire la suite de l'article
s'abonner
The specialist for thermal management solutions technotrans will present at k Trade Fair 2022 innovative products for the plastics processing industry. Among these products is a series of highly efficient refrigeration units with frequency-controlled rotary screw compressors, which will be showcased for the very first time as well as an AI-based process data monitoring system.
technotrans will also present an upgraded version of its eco.line unit, the most efficient temperature control unit series on the market, and a new variothermal switching and control unit.
« This year's K Trade Fair is a special occasion for us: First of all, we will present powerful, innovative solutions for all three focus topics of the trade fair. In addition, it is the first K Trade Fair for gwk and Reisner after the two companies have merged under the technotrans umbrella brand, which is something that we want to make even better known throughout the market, » says Nicolai Küls, Managing Director of technotrans solutions in Meinerzhagen. With particularly energy-efficient temperature control systems, the intelligent use of waste heat and refrigeration units with a higher level of environmental friendliness, technotrans offers new solutions for the sustainable processing of plastics and the associated upcycling and recycling concepts.
The company has developed a corresponding cooling concept with waste heat utilisation. It will be used for the conversion of household waste at the first European production site of the Israeli company UBQ Materials. The resulting material is fully recyclable and, therefore, the most climate-friendly thermoplastic currently available on the market. During this ground-breaking upcycling process, a multi-stage high-temperature heat pump, which has been realised by technotrans in cooperation with SPH Sustainable Process Heat, increases the temperature of the waste heat produced during the cooling process to up to 150 °C. This heat is then used for drying the shredded particles so that no additional fossil fuel is required.
Others innovations include: A new chiller series with a cooling output of up to 1,500 kW and refrigeration circuits for flexible use. These circuits are either water-cooled or air-cooled, depending on which cooling concept can provide the highest level of energy efficiency in any given situation. Intelligent interconnections of different system components lead to low energy costs and, therefore, to the greatest possible minimisation of the related CO2 emissions. At the trade fair, technotrans will also present refrigeration units with propane as an environmentally friendly refrigerant.
In addition, the company will showcase a redesigned version of the control-integrated water distribution system itd evo and an upgraded version of the eco.line series of temperature control units. « 
All rights reserved except agreement written by Emballage Digest or mention of the magazine