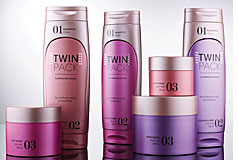 Two bottles in one unit for new product combinations
publié le jeudi 30 avril 2020
Some things come in twos — whether they are shampoo and conditioner, sun and after-sun, or shower-gel and lotion.
This concept allows the promotion of numerous product combinations. The TWIN PACK concept developed makes it possible to unite two different products in one unit while allowing for independent dispensing. The patented TWIN PACK was designed and developed completely by Corpack. It is technically optimized for large-scale production and filling processes.
Some of the more apparent advantages include space-saving, not only in the bathroom but at the point of sale (using less shelf-space per product). This unit is ideal for travelling (hand luggage 2 x 50ml), combining complementary products, cross-promotions, as well as enhancing product sales, customer loyalty, and brand impact. The packaging can be customized through the application of labels, shrink-foils, or decorating techniques such as silk screening, hot stamping or tampon printing.
Part of 647 issue – April 20. All rights reserved except agreement written by Emballage Digest or mention of the magazine