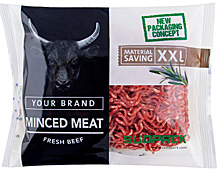 Two innovative films for minced foods
publié le mardi 30 juin 2020
Südpack is launching two innovative packaging concepts for minced meat that do without bottom trays.
The Flow Pack PurePP film is an innovative and unconventional packaging solution for "minced" products, which captures consumers' attention at first sight. It achieves material savings up to 60% compared to tray packaging. A PurePP flow-wrapped pack for one kilogram of minced meat weights as little as 9.5 gram. It is also an attractive solution for manufacturers: it can be processed quickly and efficiently on all common flow wrapping machines, even at high speeds, thanks to its good sealing properties.
The second packaging innovation is for minced meat in thermoformed packs, consisting of the Multifol PurePP sof film as the bottom film and a peelable PP-based upper film. This also contributes significantly to the reduction of packaging material volume: the solution uses 55% of the material used to make tray packaging. Depending on production requirements, the concept supports modified atmosphere packaging (MAP) and vacuum packaging. Thanks to their high barrier properties, the two film concepts offer the same high level of product protection as standard tray packaging. With both concepts, the typical shape and consistency of minced meat is preserved and presented in an appetizing manner. The integrated anti fog effect prevents the pack from steaming up and gives consumers a clear view of the product. In terms of design, both solutions offer maximum scope for creativity – they can be printed using flexography or gravure printing.
Part of 648 issue – May 20. All rights reserved except agreement written by Emballage Digest or mention of the magazine