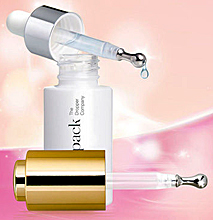 Virospack unveils a new 2-in-1 massage applicator dropper
publié le vendredi 24 janvier 2020
Virospack will present at the next ADF/PCD exhibition the first dropper with a massage tip designed for eye contours, serums, oils, fluid makeup, and in general for low viscosity formulas, which want a precise, comfortable and pleasant application and a refreshing effect on the skin.
It´s a dropper whose pipette ends in a metal tip made of Zamak, a completely harmless material, with a cold effect for an instant cooling action to skin. The new dropper of Virospack, thanks to its metallic tool, offers an extra benefit to the precision, ease and safety in dispensing and application. The massage increases the effectiveness of the product thanks to its decongestant and blood activation effect, for a better penetration and absorption of the formula.
The dropper with metallic tip can be classic or with push button. And decorated by several process: spray printing, injected colour, metallized, metal shell… The pipette is PP and incorporates at its end the metal tool with an original drop-shaped design for a pleasant massage and better results. The pipette´s length fits perfectly with the Virospack moulded glass bottles – models Slim 15ml capacity & Wide with 30ml capacity and last drop technology- forming a premium final set. It also fits perfectly with many of the company´s tubular glass bottles and a large line of vials in the market.
All rights reserved except agreement written by Emballage Digest or mention of the magazine