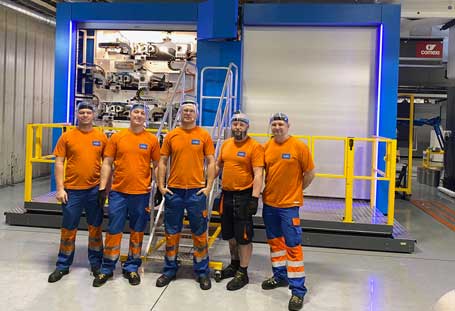 Walki invests in a new flexoprinting machine in Jatne
publié le jeudi 18 février 2021
The demand for flexible packaging materials is growing amid the transition towards sustainable food packaging. Walki has answered to this need by investing in a brand new flexo printing machine in its Jatne plant in Poland. "This new investment will significantly increase our capacity and we will be able to answer to the fast-growing demand in flexible packaging," says Andreas Rothschink, Sales Director, Consumer End Uses at Walki.
The high-speeed machine is a 10-colour, state of the art flexographic printing machine that offers top quality and low change-over waste.  The investment includes a fully automatic plate mounting machine to further ensure superior printing accuracy on both paper and film and a system for fully automatic job setting in the printing machine. The inks used are water-based and hence environmentally friendly.
As the food industry is shifting to recyclable food packaging, paper-based materials come up as a strong contender, explains Walki. The look and feel of the packaging is an important differentiating factor for end consumers. This sets high demands on the print quality. "The new flexoprinting machine assures great accuracy of the printouts and a very high quality," says Jakub Gunert, Plant Manager in Jatne.
The importance of flexible packaging will grow substantially in the coming years as paper-based packaging is efficient both in terms of the amount of materials used and easy recyclability.
"With this investment we are strenghtening our capabilities to further improve the quality and efficiency in all of our product categories," says Andreas Rothschink.
In addition to food packaging, the new machine in Jante will also serve ream wrapper customers.
All rights reserved except agreement written by Emballage Digest or mention of the magazine