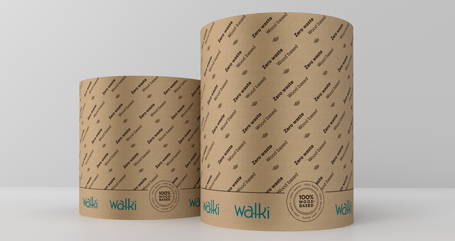 Walki launches a new reel wrapping paper entirely wood-based
publié le jeudi 28 janvier 2021
With a wood-based reel wrapping paper entirely made of wood, Walki is helping the publishing industry to minimise its carbon footprint. When graphical paper for magazines is transported to the printer, the paper reels need to be protected. Walki has developed a 100% wood-based reel wrapping paper, where the protective polymer barrier is made with tall oil.
"Walki®Reel Wood is made of 100% renewable raw materials: plant-based tall oil and paper. In addition, we can potentially reduce the amount of the polymer component by more than 20%. Considering the scale of the board and paper industry, this kind of change does make a difference," says Carlo van Houtum, Vice President, Sales & Marketing at Walki.
As tall oil is a side product from pulp production, no additional forest needs to be harvested to acquire it. The Walki®Reel Wood was developed in collaboration with a customer. Other customers have also shown a great interest in the fossil-free wrapping paper as it helps them and their customers, such as publishing houses, to reduce carbon footprint.
Walki uses the wrapping paper also for its own use in the Valkeakoski and Pietarsaari plants in Finland and in Steinfurt in Germany, in an effort to cut down on the company's own carbon footprint. There are also plans to start using Walki®Reel Wood in Walki's UK plant in Garstang.
All rights reserved except agreement written by Emballage Digest or mention of the magazine