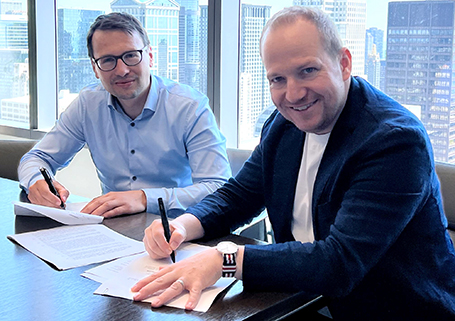 Wiferion establishes subsidiary in the US
publié le vendredi 16 septembre 2022
Abonnez-vous à la revue pour lire la suite de l'article
s'abonner
Wiferion, solution provider in mobile wireless power supply for industrial trucks and mobile robots is entering the North American market and has founded a subsidiary in Chicago. With this step, the German tech company is responding to the great demand in north America for its award-winning and now also UL-certified charging solution.
« With our new subsidiary in Chicago, Wiferion is moving closer to the North American AMR market, enabling shorter response time and US market tailored consulting and support », says Matthieu Ebert, Vice President of Wiferion North America Inc. The greater Chicago area such as Michigan and the US Midwest is home to numerous Wiferion customers, including one of the leading US industrial truck manufacturers. With the new office, Wiferion offers its North American customers and European companies active in the US market short delivery times and fast service and support on site. Currently, the German technology company is hiring Customer Success, Sales and Application/Service talents to build a powerful team.
Wiferion's inductive charging systems supply energy to entire industrial vehicles fleets completely automatically, no matter what the voltage, current or battery type is. The charging innovation increases productivity by up to 32% through automated in-process charging. The UL-certified etaLINK mobile, non-contact, inductive battery charging system operates automatically and is maintenance-free. The system is designed for easy integration, limited installation space availability and flexible installation. In addition to offering more efficient energy supplies, Wiferion's contactless inductive charging systems eliminate safety concerns due to open contacts, trip hazards and fire potential.
Wiferion's system has been designed into more than 100 different industrial EV and mobile robots worldwide with more than 5,000 units sold globally, including installation in several renowned European and US automotive manufacturing facilities.
All rights reserved except agreement written by Emballage Digest or mention of the magazine