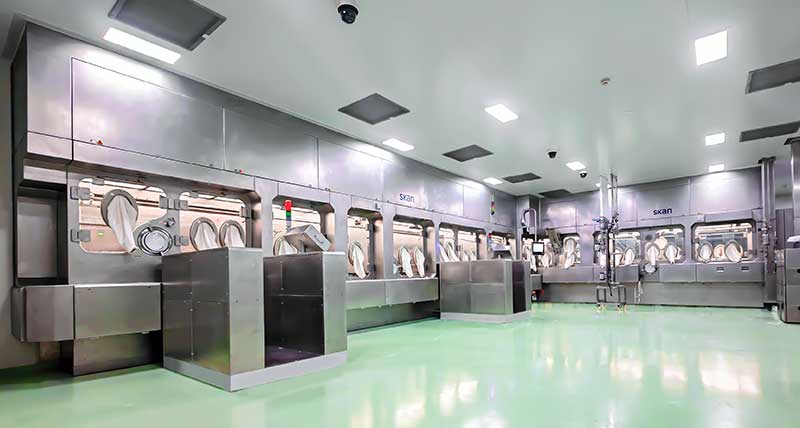 WuXi STA debuts its first high potency sterile injectable manufacturing line
publié le mercredi 19 juillet 2023
The global CRDMO WuXi STA launches a first high potency (HP), fully automated sterile injectable manufacturing line at its drug product site in Wuxi City, China. The new HP injectable manufacturing line, with an annual capacity of 12 million units, further enhances the company's manufacturing capabilities and capacity for injectable dosage forms – providing greater flexibility to respond to the increasing demand of the high potency pharmaceuticals market.
The new HP injectable manufacturing line meets Occupational Exposure Limits (OEL) as low as 10 ng/m3 and utilizes fully enclosed isolation systems and automated filling machines. This design minimizes human intervention, preventing cross-contamination and ensuring stringent quality assurance for sterile products. The line is equipped with two 20 m2 lyophilizers and supports liquid and lyophilized vials of various specifications, with a filling rate of up to 200 units per minute.
Adhering to the International Society for Pharmaceutical Engineering (ISPE) guidelines, regular industrial hygiene monitoring is conducted to maintain the integrity of the sealed isolators. This commitment to stringent compliance, along with the integration of an independent air conditioning system and a bag-in bag-out (BIBO) exhaust air purification system, guarantees the safety of operators, the environment, and the product quality.
The Wuxi City drug product site currently has two fully automated sterile injectable manufacturing lines, with manufacturing capacity of 2 million and 10 million units annually. These lines support various dosage forms, including liquid and lyophilized vials, pre-filled syringes, and cartridges. In addition, the company's sterile lipid nanoparticle (LNP) platform has also started operation at the Wuxi City site, with a batch production capacity ranging from 10 to 50 liters, supporting the formulation development of complex new modalities, especially oligonucleotide-based drug candidates.
By 2024, WuXi STA plans to add two more injectable manufacturing lines at the same site, with additional lines to be added in Couvet, Switzerland and at the upcoming Middletown site in Delaware, USA.