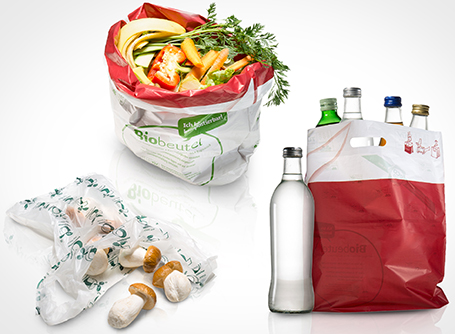 Biopolymers: New cooperation between BASF and WPO Polymers in Spain and Portugal
publié le jeudi 30 septembre 2021
As part of its growth strategy for its biopolymers business, BASF will cooperate with WPO Polymers to further advance on the fast developing Spanish and Portuguese markets: The plastics solutions provider will act as distributor of BASF's ecovio® film product range for certified compostable shopping bags, organic waste bags as well as fruit and vegetable bags in Spain and Portugal. Building on their respective strengths, BASF and its new partner will be better positioned to accelerate business on this important market and to support food companies and retailers to comply with the Spanish Royal decree 293/2018 on the reduction of plastic bags including the mandatory usage of compostable bags (<50 µm thickness) certified according to EN 13432.
« With this new partnership, we want to further improve services for our processors through greater proximity, to meet our customers' needs more effectively and increase our delivery flexibility. The cooperation will also allow us to support the separate collection of organic waste, as high-quality compost is important for climate change mitigation," says Mia Pettersson, head of BASF's global business unit Specialty Polymers. Since 2018 Spanish legislation has step by step tightened the consumption of bags made of conventional plastics, which in this year culminates in the obligation for retailers and bag producers to offer only light and very lightweight certified compostable bags to consumers. Thus, the Spanish market for biopolymers is expected to become one of the largest in Europe.
The BASF biopolymer ecovio® is certified compostable in accordance with e.g. DIN EN 13432. It is a blend of BASF's PBAT ecoflex® and renewable raw materials, which means that ecovio® is also partly bio-based. Typical applications for ecovio® are organic waste bags, cling film, fruit and vegetable bags, as well as agricultural mulch films and food packaging applications.
All rights reserved except agreement written by Emballage Digest or mention of the magazine