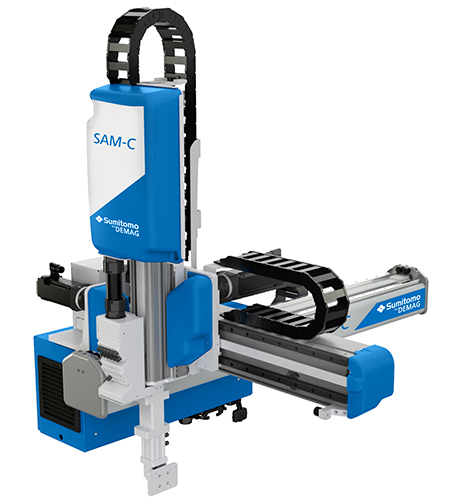 Sumitomo Demag launches first own-label robot series at Fakuma 2021
publié le vendredi 01 octobre 2021
Sumitomo (SHI) Demag Plastics Machinery will present its first own-branded robot series solution to trade visitors at its Fakuma 2021 booth. Based on two compact « handle&place » solutions, the new SAM-C (Sumitomo Demag. Automation. Machine – Cartesian) development will initially comprise four payload sizes – three, five, ten and 20 kg – with the SAM platform expanding in phases over the next two years adding further robot kinematics and functional elements.
"With SAM-C, we have succeeded in engineering the smallest automated injection moulding cell, comprising robot and material handling technology, » explains Jürgen Schulze, Director Automation. Highlighting further advantages of this compact footprint, fully automated moulding production line, Schulze explains: "We offer high system availability with minimal repair and maintenance work, thanks to Sumitomo (SHI) Demag's in-house servo motor technology and low-maintenance drive and guide technology. With the corresponding vacuum technology, the systems also deliver significant energy-savings. »
Sumitomo (SHI) Demag is expanding and strengthening its range of robotic solutions. The partnership with Sepro is being expanded internationally, and the range of robots is being significantly strengthened with the addition of the company's proprietary robots. Central components, such as the drives, are sourced from the Sumitomo Drive Technologies subsidiary – the Lafert Group in Italy.
The new SAM robots have been designed specifically for injection moulding machines with clamping force sizes between 50 and 500 tons, and for standard applications with cycle times of 10 seconds and higher. Customers benefit from process and system technology from a single supplier source, complete with hardware and software control integration of robot technology into the injection moulding unit and production-optimized robotic mechanics fully customized to Sumitomo (SHI) Demag machines. « With our SAM robots, customers benefit from an attractive price-performance ratio incorporating full injection moulding and automation, including CE marking conformity, » says Schulze.
All rights reserved except agreement written by Emballage Digest or mention of the magazine