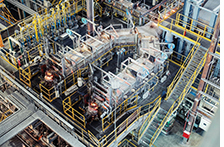 Bormioli Pharma joins the Glass Futures project
publié le mardi 30 novembre 2021
Bormioli Pharma and Glass Futures have signed a 10-year membership, which will see them jointly involved in industrial research into new low-emission methods and technologies for glass production.
Glass Futures has been founded with the aim of developing a new approach to glass production, capable of bringing about a technological and economic revolution with great impact on the industry. Through collaboration with universities, companies and research bodies, the organisation will bridge the gap in academic research and commercial implementation by trialling projects on a world-first pilot furnace. This pilot facility, The Global Centre of Excellence for Innovation, R&D and Training will be located in St. Helens, United Kingdom.
« With this project, we confirm our commitment for glass, a material that is infinitely recyclable, but still requires an important contribution in terms of reducing emissions. The agreement will give us privileged access to innovative technologies for glass production, strengthening our position and reducing our impact on the environment, » explains Davide Faverzani, Head of Engineering of Bormioli Pharma, commented on the signing of the MOU.
The decision to join Glass Futures is part of Bormioli Pharma's long-standing commitment to increase the efficiency and sustainability of its products and business processes, the main points of which are constant R&D of products made from alternative sustainable plastics (e.g. recycled, bio-based, compostable); use of recycled glass in its production; and continuous updating of its technological platform, through targeted actions, such as the renovation of furnaces, with a view to improving energy efficiency and guaranteeing low emissions.
Part of 663 issue – November 21. All rights reserved except agreement written by Emballage Digest or mention of the magazine