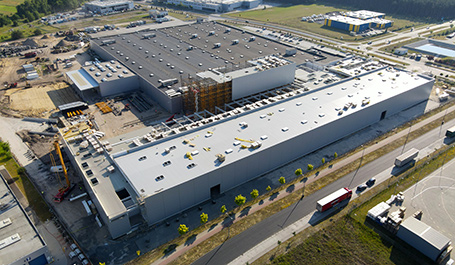 Model Group invests in its plant in Poland
publié le mardi 22 juin 2021
In the pursuit of its long-term growth strategy in Poland, Model Group will install a corrugator until the end of November, 2021 at the plant in Nowa Sól. Model Group has been present in Poland for more than 20 years. The plant in Nowa Sól was acquired by Model Group in 2016 and served as a converting plant up to now.
Apart from Nowa Sól, the group has integrated corrugating factories in Biłgoraj near the Ukrainian boarder and Czosnów near Warsaw. The new machine in Nowa Sól has a working width of 2.8 meters with an output capacity of 200 million square meters and increases the domestic production potential to over 600 million square meters.
Our third plant in Poland has very wide production capabilities. Apart from all types of standard packaging with print of up to 6-colours, the factory produces multi-point glued packaging with combination of hot and cold gluing. The specialty of the plant is packaging for the e-commerce market with the possibility of application of up to 3 PSA glue paths. The Polish market is currently the 4th strongest in the group. The installment of a new corrugator will pave the way for further growth in Poland.
All rights reserved except agreement written by Emballage Digest or mention of the magazine