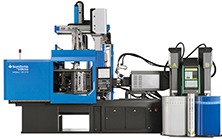 One stop shopping-machine and process technology from a single source
publié le jeudi 30 septembre 2021
At Fakuma 2021, Sumitomo (SHI) Demag Plastics presented three all-electric injection moulding machines from the IntElect series, plus one from the company's El-Exis SP packaging range.
An IntElect 130/520-450, including an LSR package, showcases state-of-the-art elastomer injection moulding integrated with the Servomix Z200 metering system from partner Nexus Elastomer Systems. For its inaugural presentation to the global trade audience, the LSR exhibit demonstrated the production of a freeform automotive axial seal. « 16 cavities, burr-free, no conversion, » succinctly states Henrik Langwald, Director Automotive & Electronics. An IntElect 220/660-1100, equipped with a special plasticizing unit for processing crystal-clear multilayer PC, demonstrates all of the IMD advantages in a single, seamless process. Automating the production of emblems for automotive exterior applications, the IMD decoration process involves back-injecting a second surface using a single image followed by contactless cleaning in a laminar flow box. The exhibit focused on the IntElect S 100/460-250 with an automation system from Waldorf Technik partner's patented Vario Tip FSS system. "The uncompromising design of this trade exhibit showcased the production of medical parts and caps for insulin syringes, on a 16-cavity mould in a total cycle time of around six seconds, » reports Anatol Sattel, Director Medical.
Once again, an El-Exis SP 250 proves its high-speed capabilities manufacturing a cup application. The hybrid machine for packaging impressively demonstrates high speed, user-friendliness and durability. « Opening and closing sides are the fastest on the market, » reports Arnaud Nomblot, Director Packaging. "The origins of the short cycle times and 1,000 mm/s injection speeds can be attributed to the hydraulic accumulator. As a result, processors can produce even thinner and lighter packaging items, resulting in a significant reduction in raw material requirements, packaging waste and shipping costs.
Part of 661 issue – September 21. All rights reserved except agreement written by Emballage Digest or mention of the magazine