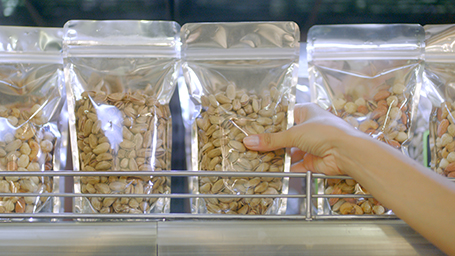 OQ unveils flexible packaging with series of multilayer solutions
publié le jeudi 29 septembre 2022
Abonnez-vous à la revue pour lire la suite de l'article
s'abonner
To meet market expectations regarding flexible packaging, OQ has developed a portfolio of film packaging solutions designed for a wide range of film extrusion applications, including PP, LLDPE and HDPE grades, that are able to meet these essential requirements, providing consistent quality, performance with competitive costs. This portfolio includes several innovative and reliable multilayer food packaging solutions.
HP4102M, for example, is a homopolymer polypropylene designed for CPP and is suitable to produce metallizable and lamination films. It is commonly used for confectionery packaging and food products requiring an aroma barrier and is popular with packaging manufacturers due to its good processability, high gloss and clarity, and mechanical properties.
OQ has also developed a robust range of HDPE and LLDPE film grades to support mono and multilayer film structures providing solutions for a wide range of applications. For instance, the DFDA-7042/7047 and DFDC 7080/7050 grades – boasting high gloss and excellent draw down qualities, as well as good tensile strength and toughness.
Meanwhile, key features of DGDZ-6095 and DGDZ-6097 HDPE grades include high film strength and tensile properties give the ability to provide additional stiffness to multilayer structures. Furthermore, OQ's HPR1018HA metallocene mLLDPE grade features excellent toughness and sealing properties an ideal partner in formulating solutions for multi-layer performance film structures.
OQ currently produces 19 flexible packaging grades, 11 of which serve the key food packaging market segment. All of which are suitable for blend or majority components in both mono layer and multi-layer film solutions.
Trevor Robinson, Global Head of Marketing at OQ, commented: "Our innovative and high-performance products and services, often lead our customers to more cost-effective solutions outperforming the original. And with a network of regional offices and technical service teams located in key markets such as the Middle East, China, Singapore and Turkey, we can provide customers with timely advice, troubleshooting and answers to questions."
OQ is continuously striving to innovate and stay ahead of trends. Its product development lab represents the beating heart of this culture – here, various product development activities including properties and raw material selection are evaluated to optimise the product performance. OQ also adopts a stage gate process whereby its team proposes and tests new grades before being introduced into the market to ensure top tier quality and performance.
All rights reserved except agreement written by Emballage Digest or mention of the magazine