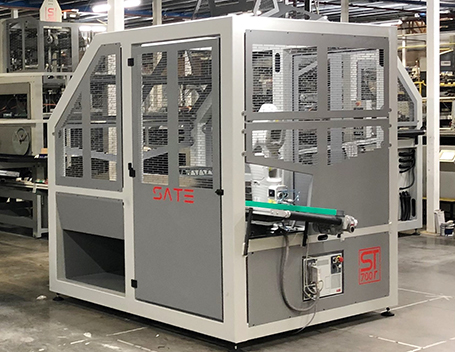 Pollard Boxes invests in a new automated equipment
publié le jeudi 16 septembre 2021
Luxury packaging specialist Pollard Boxes, now part of the Pusterla 1880 group, has invested over £1 million in new automated equipment at its Leicester, UK factory to further enhance its capabilities and range of services offered to customers.
The investment underlines the high demand for the company's design and manufacturing capabilities in the creation of bespoke luxury boxes, despite the many challenges of the pandemic. This in turn is also a reflection of the continuing onshoring trend among customers, preferring the greater certainty of supply from a UK-based manufacturer as well as avoiding the impact of ever-increasing freight costs.
The new equipment includes two of the latest SATE S700 smart rigid box, the first to be installed in the UK. The fully automated models can produce a huge range of different box sizes with the ability for adjustments to be made without the need to stop the machine. Set up and changeovers are also much faster – from around three hours to less than 40 minutes – thereby further increasing throughput.
As part of its comprehensive fulfilment service, Pollards is also investing in in-line robots for the automated filling of boxes after manufacture, thus further streamlining and speeding up the operation.
In addition, the company has commissioned a bespoke machine for the shredding and loading of protective and display tissue into boxes. This ensures a consistent amount of tissue in each box, improving overall presentation and protection, while avoiding the mess and waste that can be caused when the shredded tissue is supplied in bulk.
"These new machines will further boost our manufacturing and fulfilment capacities, as well as giving us additional flexibility to be able to respond quickly to customer requirements," comments Pollards' commercial director Peter Conner. "In competitive markets and when demand is high, companies need the reassurance of localized supply without compromise. We will continue to invest in the latest equipment to ensure we maintain the highest levels of customer service."
All rights reserved except agreement written by Emballage Digest or mention of the magazine