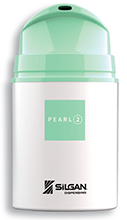 The next generation airless system
publié le mardi 30 novembre 2021
Silgan Dispensing, a global leader in design and manufacture of highly engineered pumps and sprayers in the beauty, fragrance, personal care, home, and healthcare markets, showcased Pearl®2, the next generation of its airless systems, at the last Luxe Pack Monaco 2021.
Pearl®2 delivers all the benefits of standard airless systems, such as formula protection from oxidation, 360-degree dispensing, and a high-evacuation rate to help consumers get out the last drop. This new generation also offers materials designed for recyclability, a robust e-commerce design, and broader technical capabilities. "Pearl 2 was designed with our customers' needs in mind. Our focus in developing the product was on three key areas: sustainability, e-commerce, and improved performance," said Guillaume de Demandolx, Vice President, Fragrance and Beauty for Silgan Dispensing.
To get that mix right, Silgan Dispensing invented LifeCycle™ Technology, a revolutionary, patented plastic spring in Pearl®2 that enables the removal of non-recyclable materials and metal, which led to the dispenser being made almost entirely of a single polyolefin. As a result, Pearl®2 has been certified by RecyClass to not have a negative impact on current European-colored containers recycling based on third-party laboratory testing using the Recyclability Evaluation Protocol for HDPE containers*.
The airless system also passes third-party e-commerce testing protocols due to its robust design and overcap. The pump can withstand changes in air pressure, which means that it won't leak during transport or air travel. The final component of Pearl 2's development focused on improved performance, both technically and for the consumer. On the technical side, brand owners will appreciate Pearl 2's high compatibility plus consistency of performance across a variety of different formulas and viscosity levels. For consumers, a longer stroke length provides maximum dosing control in an ergonomic, one-handed dispenser.
Silgan Dispensing also unveiled new additions to its extensive post-consumer recycled (PCR) portfolio – including a new food-grade material option for beauty and personal-care applications. In the fragrance category, the company's Pirouette™ technology changes the way that fragrance pumps connect to glass bottles, providing consumers an easy way to recycle the bottle or refill it with their favorite scent. Silgan Dispensing has expanded Melodie Pirouette® and added XD11 Pirouette™ to the family.
*RecyClass recognition applies for an undecorated clear or white jar + overcap and requires the applied printing technology to be compatible with recycling.
Part of 663 issue – November 21. All rights reserved except agreement written by Emballage Digest or mention of the magazine