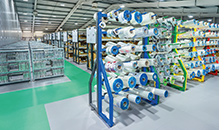 Towards sustainable tray formats
publié le lundi 31 mai 2021
Proseal's innovative ProPosition™ automatically identifies the best position for trays, to ensure perfect alignment every time. Its advanced technology provides food manufacturers and processors with a simple one-step tool-set-up and removes the time consuming and potentially wasteful process of running test trays.
The company's unique Test Kitchen facilities are also available to allow suppliers of alternative packaging materials to carry out extensive trials. This ensures that any potential tray design is conducive to tray sealing, able to deliver the required levels of product protection and extend shelf-life, and that on the shelf presentation can be successfully commercialised. In addition, Proseal is the tray sealing partner for the Halopack® tray, the first fully gas-tight cardboard Modified Atmosphere Packaging (MAP) tray. Produced with renewable or recycled cardboard, Halopack® combines a strong environmental profile with high barrier properties that maintain product quality and extend shelf-life. The patented design is fully sealable for efficient in-line production and Proseal can supply a machine that erects and assembles the packs. At the same time, Proseal acknowledges the important role that plastic packaging plays in the food sector, particularly its ability to help reduce food waste, which is widely acknowledged as a significant environmental problem. Protein producers have now switched from PE lined PP trays to mono APET, which can be recycled.
The adoption of top sealing instead of clamshell and clip-on lids in the soft fruit sector, for example, reduces packaging materials by as much as 45%. This equates to a saving of 10 tons of plastic for every one million trays that are top sealed. Similarly, Proseal can assist tray manufacturers in the development of lighter weight trays that still have the strength and robustness to produce tight, high quality seals in its tray sealers.
Part of 658 issue – May 21. All rights reserved except agreement written by Emballage Digest or mention of the magazine