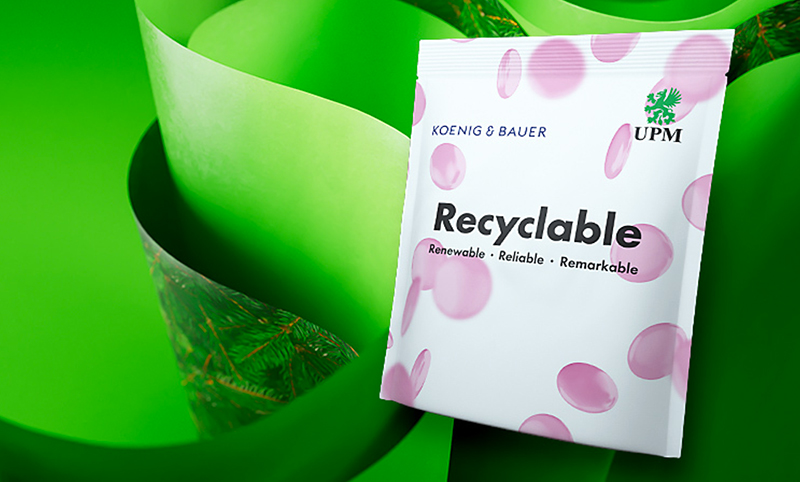 UPM and Koenig & Bauer optimise digital printing for barrier papers
publié le vendredi 21 avril 2023
UPM Specialty Papers' heat-sealable barrier papers have achieved good results in tests carried out with Koenig & Bauer's next generation of inkjet digital printing technology. This allows to accelerate time to market or to create more customized packaging.
The aim of the partnership between UPM and Koenig & Bauer was to test and optimize the compatibility of digital printing for UPM Specialty Papers' barrier papers for digital printing, as it would offer a powerful combination for transforming how flexibly even small batches of packages can be produced. "Our goal was to produce samples of a real-world product," says Falko Baltrusch, Senior Manager at the Koenig & Bauer Customer Technology Center. "This co-creation was ideal, combining the paper and processing expertise of UPM Specialty Papers with our knowledge of machines, inks, temperatures and so on. This enabled us to control the whole process to see if the papers were printable and, if so, make sure that the print was of the right quality. We achieved both goals."
The companies agreed to run the tests on UPM Confidio™, UPM Asendo™, and UPM Prego™ barrier paper families, which offer a variety of different coated and uncoated surfaces. The tests also allowed UPM Specialty Papers to trial their barrier papers on digital printing technology since packaging is traditionally printed with flexo, rotogravure, or offset methods, which require high volume runs.
As a globally active printing press manufacturer, Koenig & Bauer is looking to the future with the development of its RotaJET inkjet printing press, a highly flexible digital printing system capable of working with numerous different substrates and applications.The RotaJET uses GMP water-based polymer pigment inks, which are Swiss ordinance compliant.
"Given the limitations of conventional print methods, we were very keen to see how our barrier papers performed on the RotaJET printing press," says Markus Kamphuis, Technical Sales Manager, UPM Specialty Papers. "The results were extremely successful from the beginning. UPM Confidio™ incorporates an additional heat seal function, so it was also important to find out if the temperatures for drying ink would activate the sealing function or change the colours of the design. Neither was an issue, and the colours were really sharp and vivid. Our papers matched perfectly – it was simply a matter of setting the parameters, optimising the system, then printing. It just worked!"
This level of flexibility, combined with food safe heat-sealable barrier packaging, opens up virtually endless possibilities to brand owners. Samples of the end result will be available from UPM on Stand 29, Hall 8A during Interpack 2023.