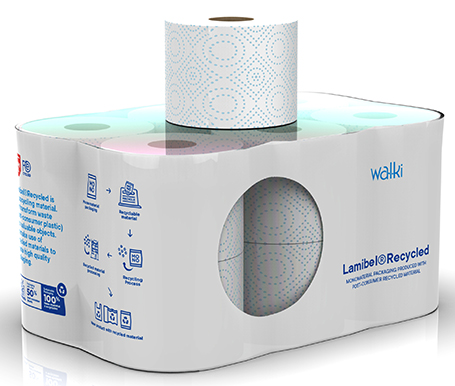 Walki introduces new recycled plastics and fully recyclable
publié le mercredi 16 février 2022
Walki is introducing Lamibel® Recycled, a non-consumer material that uses up to 70% post-consumer plastic waste. Typically, non-food packaging products only has between 30 and 50% recycled material, mainly from industrial processes.
"We transform post-consumer plastic waste into valuable objects, using recycled materials to create high-quality packaging, » explains Juan Pedro Hernández, Head of sales South-West, Films & Bags with Walki Plasbel.
The demand for packaging material made from recycled plastics is spurred by the European Commission's Circular Economy Action Plan, one of the key components of the European Green Deal. It includes a revision of the Packaging and Packaging Waste Directive (PPWD) that seeks to ensure that all the packaging on the EU market will be recyclable or reusable in an economically viable way by 2030.
« Flexible packaging products made from fully recyclable monomaterials like Lamibel®Recycled, will play an important part in achieving the ambitious European goals », says Juan Pedro Hernández.
The post-consumer material used to make Lamibel® Recycled typically comes from three main sources: stretch film for pallet wrapping, PE packaging material, and film used to bundle bottles, cans and Tetra Briks. These products are all collected by certified suppliers from supermarkets, warehouses, shops and so on. They then go through a careful selection process through which the materials suitable to continue into the production process are identified.
Made at Walki Plasbel's plant in Murcia, Spain, Lamibel®Recycled is primarily used to package non-food household products like toilet rolls, hand rolls and hand towels. Lamibel®Recycled, being a monomaterial, is also a fully recyclable.
All rights reserved except agreement written by Emballage Digest or mention of the magazine