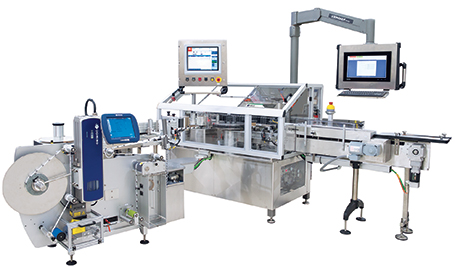 WLS introduces RFID labeling solutions
publié le lundi 19 juillet 2021
WLS, a ProMach product brand, introduces its latest RFID labeling solutions. To meet the unique needs of each customer, WLS has adapted its high-speed pressure sensitive label applicators and label printers to incorporate the latest RFID technology. By applying RFID labels to vials, bottles, tubes, syringes and devices, WLS delivers dynamic labels that can lock-in select variable data while allowing other variable data to be updated through the life of the product. This simplifies inventory control for end users while providing product verification and authenticity for manufacturers.
"At WLS, we build close, collaborative partnerships with our customers while solving their most complex labeling challenges. Given our extensive experience integrating variable data printers, vision inspection systems and serialization with our high-speed labelers, RFID is a natural progression for us," said Peter Sarvey, Director of Business Development at WLS. "The adoption of RFID labels is being driven by pharmaceutical and medical device manufacturers that want to offer improved traceability and product authentication as well as end users who require products with a dynamic fingerprint to track dosages and inventories. RFID labels can be valuable to any industry interested in improving traceability and product authentication, not just hospitals and pharmacies."
RFID-Ready Labelers from WLS are designed to apply pressure sensitive labels embedded with RFID inlays from the converter. The RFID labels are read, written (encoded), locked or unlocked (as required), verified, applied to the product and re-verified (as needed). The label web path has been configured to preserve the integrity of the RFID chips and antennas during the label application process.
Variable data printing with vision inspection systems can be coupled with RFID-Ready Labelers. WLS options for rejected label reconciliation, assurance labeling and rejected product removal are all offered for RFID-Ready Labelers as with their standard labelers.
RFID-Enabled Label Application Systems from WLS provide dual label heads feeding a single vacuum drum applicator. The first label head releases a standard pressure sensitive label onto the vacuum drum while the second label head releases the wet RFID tag, synchronized and centered, onto the standard pressure sensitive label, enabling the vacuum drum to apply both the wet RFID tag with the standard pressure sensitive label onto the product. This is a simple, cost-effective way to enable high-speed RFID labeling, allowing WLS customers to keep their existing standard labels.
Utilizing an off-line, stand-alone, on-demand RFID-Ready Print Stand allows WLS customers to adopt RFID labeling without altering or upgrading their existing labelers. The high-speed RFID-Ready Print Stands incorporate full-label vision inspection with rejected label removal and verification, verifying the printed label and the encoded RFID tag.
All rights reserved except agreement written by Emballage Digest or mention of the magazine