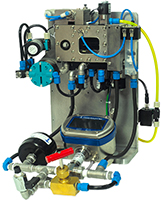 Xaar acquires Megnajet to accelerate growth
publié le mardi 08 mars 2022
Xaar has completed the acquisition of Megnajet, one of the market leaders in the design and manufacture of industrial ink management and supply systems for digital inkjet. The deal accelerates Xaar's growth strategy of offering its customers, particularly User Developer Integrators (UDIs), greater integration across inkjet solutions through access to more of the printing ecosystem, such as ink supply systems and electronics.
Megnajet designs and manufactures some of the most integrated and compact ink management and supply systems. Their broad product range will form part of Xaar's inkjet solutions portfolio, helping UDI customers reduce development timescales and shorten their time to market, while also attracting a broader range of commercial opportunities for the business. In addition, the acquisition will enable Megnajet to focus on growth through new developments and shared expertise across the group.
Megnajet will be headed by Mike Seal as its new General Manager. He joins the business having previously been Xaar's Head of Advanced Applications. Megnajet's Technical Director, Graham Strudwick, becomes the Xaar Group's new Director of System Component Integration, bringing his expertise to the wider business while still retaining the responsibilities from his previous role.
All rights reserved except agreement written by Emballage Digest or mention of the magazine